Exploring the Rainforest Realm
My experience as a naturalist & guide, especially in the Tambopata region of SE Peru, enhanced my skills as a naturalist in observing and detecting wildlife in the 'hidden realm' of the rainforest, from mammals and birds to a diverse range of frogs, snakes and insects.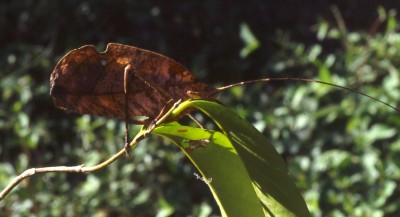 I'll take you to one of the most diverse places on Earth, the Tambopata region in SE Peru, a remote area first surveyed by the explorer Colonel 'Percy' Fawcett in the 1910's. Also find out what it is like to stay in a remote jungle lodge that was first set up in the 1970's - Explorer's Inn.

With stunning slides and atmospheric sound effects learn about the staggering array of life in the Amazon rainforest, from the huge variety of birds to the array of frogs. I will dispel the myths (you can swim with piranha!) and highlight some of the fascinating facts with giant toads, 7m Anacondas, close encounters with Giant River Otters, the bizarre life history of the strangular fig tree, and the incredible adaptations of insects, from perfect leaf mimics to the life cycle of the botfly (check out the story of my encounter with a botfly). I was a founder member of the Tambopata Reserve Society (TReeS), edited the TReeS Manual for Guides and Naturalists, and gave advice to people going to Tambopata as resident naturalists.

I can also focus a rainforest talk to your interests and about rainforests in other parts of the world, the threats they face, and the future prospects, based on my experience of rainforests in South America and other parts of the world, the Caribbean, Central America, Indonesia (orang-utans!), Madagascar, Nepal, Papua New Guinea, Thailand, and Uganda (Mountian Gorillas!), and on expedition cruises to remoter islands in the tropics, Crucially, I've learnt how to look out for wildlife in this 'hidden realm'.