People Enjoy My Enthusiasm and Ability to Describe the Natural World in a Vivid Way!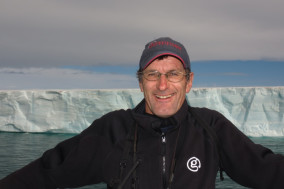 I worked with Kevin Morgan for two seasons in Antarctica aboard the Elegant Cruise Line ship the ANDREA. His lectures are excellent and his vitality and excitement makes for an unusually stimulating work ethic. He is on the job from morning to night, with his ever present binoculars around his neck. One is tempted to compare him to the Ancient Mariner with binoculars around his neck instead of an Albatross. He works well with tourists and the expedition staff - always willing to answer questions and help out with any task required. A solid addition to any expedition team.
Dick Cameron, Ph.D., Glaciologist, Geologist and Vice-President of the American Polar Society
I first worked with Kevin Morgan aboard the MS Andrea. His enthusiasm for the wildlife we encountered was infectious, and his good humoured patience when answering the same question repeatedly by different pasengers was commented upon by a number of them. Ashore his vitality and explanations enriched every landing.
Damien Saunders, Historian and ex-BAS diver
"You are indeed a Natural Speaker & if all the other contributors are half as good as you then we should have a great programme."
Mike Dilger, presenter for 'Alien Invaders' nature programme on Channel 5.
"Kevin is an inveterate naturalist with a great depth of insight and knowledge. His enthusiasm is compelling whether he is sharing this subject in a field setting or as part of one of his beautifully illustrated talks. Kevin's knowledge, energy, constant anecdotal pieces of information and good humour, make him an excellent presenter and field companion."
Julia Wycherely MBE, D.Phil., C.Biol., MIBiol
"Your presentation was stimulating, the photography beautiful - what more could we ask? The presentation was well received by our delegates and prompted a great deal of discussion."
Comments on the "Rainforest Realm" by Cecilia Slinn, Garden Centre Association Winter Conference.

"Your slides were stunning and the facts you gave with so much enthusiasm were fascinating. Your lecture was the next best thing to being there!"
Comments on "Antarctica: The Frozen Realm" by the Women's Wednesday Fellowship, Hinchley Wood.
"Your presentation ranks amongst our 'top ten' of speakers."
Beaconsfield Probus about the "Rainforest Realm".
"A great talk delivered with knowledge and enthusiasm and superb slides, how did you manage to get such great shots!"
Comments on "On the Trail of the Whale" by the Marine Conservation Society (S.E. branch).
"This has been the best talk I've been to so far … your presentation on the rainforest was superb!"
Satisfied customer attending my rainforest realm talk as part of the London Wetland Centre Sunday lecture programme.
"It was my pleasure to meet you onboard m/s Andrea. I was very impressed by your professionalism, knowledge, and of course, your energy."
Shirley Li of Elegant Cruise Lines on my role as naturalist and lecturer aboard the m/s Andrea in Antarctica.

Kevin's knowledge of all things applicable to this trip were 100% - at all times, cheerful, helpful (nothing was too much trouble), considerate to every member of the party - and always with a smile. My occupation involves me daily with trainers and speakers and he rated very highly in this field.
Satisfied Discover the World client on whale watching trip.
"Kevin was a great travelling companion and naturalist"
Dame Margaret Anstee - first female Under Secretary at the United Nations.
Kevin was inspirational on my Arctic trip and I have learnt more from him in the past 10 days than I learnt from most of my school teachers over 18 years! His passion, zest for life and ridiculous amount of knowledge was an absolute highlight of the trip for me and his sense of humour reminded me why I am desperate to work with people like Kevin for a better future for nature.
Lydia, satisfied Gadventures client, Svalbard 2015
Kevin Morgan is the most versatile presenter I have ever had the pleasure of working with. As an expedition leader I am always delighted when Kevin is part of the expedition staff, and we have taken many cruises together in both small and large teams and in all sorts of conditions.
Most staff members are hired for their speciality that usually means biology, ornithology, history or geology, but depending on the expertise of other members Kevin can switch easily to ornithology or biology. His knowledge of birds, north or south, sea or land, is phenomenal, and likewise life in the oceans. As a naturalist he can talk on a wide variety of topic that few others ever cover, such as the inter-tidal zone, flowers and plants, and other interesting facets of the natural world. His powerpoint presentations are beautifully illustrated with high quality photographs, most of which he has taken himself. Some companies like to provide guests with a photographic voyage summary and because of his photographic and computer skills Kevin is able to take on this time-consuming project.
In addition to his lecturing and technical skills, Kevin is an excellent all round team member. He is a top level zodiac driver which is a tremendous asset when conditions are challenging. During landings he is great at leading nature walks with guests and relates well with people. On top of all that he is easy going with a funny sense of humour.
Among other locations we once spent a whole season working together in Svalbard, and Kevin is a dependable firearm handler and of course can talk about the key species of the far north – the iconic polar bear and walrus.
In brief it is my pleasure to recommend Kevin to any company as an expedition staff member.
Laurie Dexter CM, Expedition Leader