Exploring the Ocean Realm
Based on my experiences as the ship's naturalist on 'expedition cruises' with companies like G-adventures and Noble Caledonia; a guide for Discover the World and Wildwings; as a marine biologist with an M.Sc. in Oceanography, and as one of the co-author of SEALIFE - A Complete Guide to the Marine Environment and the person behind the original concept.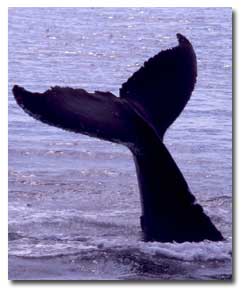 Observing whales and dolphins worldwide (have seen over 61 species).
Exploring European seas from volcanic coast of

Iceland

to the

Bay of Biscay

and the rugged coast of the Faroes to the fjords of Norway.
Encountering Fin Whales in the Southern Ocean, and Common Dolphins off Gibraltar.
Seeing Killer Whales, sea lions, Sea Otters and dolphins galore off

California, including the biggest animal of then all - the

Blue Whale!
Witnessing inquisitive Humpback Whales off

New England. Some come right up to the boats and look up at you - an experience that has people in tears from the emotion of it all.
Minke Whales and Orcas up close on zodiac cruises amongst Antarctic ice.
Exploring the coastline and islands of the British Isles, with the chance to see some of the best seabird colonies around, the incredible geology (the most diverse in the World?), and the amazing scenery.
Exploring Spitsbergen in the high Arctic for belugas and polar bears.
Exploring the Indian Ocean, Indonesia, and the Pacific, from Easter Island to Vanuatu, Madagascar to Mauritius, Papua New Guinea to Pitcairn Island and the Seychelles to the Solomons.
I can also talk about the following groups of marine life in specific oceans and seas, from the tropics, to temperate and polar regions - check out more details on these themes.
I can also talks about:
Turtles
Life on the Seashore
The Underwater Realm
I also have plenty of interesting short stories for 're-caps'.