My skills as a a herpetologist, birdwatcher and naturalist: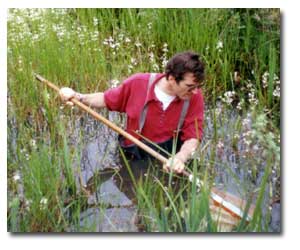 Ornithologist since childhood.
Considerable experience of bird surveys.
Herpetologist since 1989 carrying out numerous amphibian and reptile surveys.
Practical experience of appropriate and sucessful mitigation for birds, reptiles and amphibians.
Held a Great Crested Newt licence for all English Counties for many years.
Experience as licence holder for Great Crest Newt mitigation work.
NaturalEngland licence for Sand Lizard surveys.
Experience of habitat management/enhancement for reptiles and amphibians.
Work on the successful translocation of reptiles and amphibians.
Familiar with writing up surveys and reports.
Familiar with reptiles and amphibians in the UK, Europe and other parts of the World.
Experience of Water Vole surveys.
Presence/absence surveys for bats.
Experience of environmental 'watching briefs'.
Checking for Japanese Knotweed, Giant Hogweed and alien 'aquatics'.
Member (and committee member) of SARG (Surrey Amphibian & Reptile Group).
Assistance with film crews working on reptiles and amphibians including 'Wildlife SOS' on Animal Planet with Wildlife Aid.
Familiar with marine and rainforest environments, with experience as a 'ship's naturalist' and as a 'resident naturalist' in the Amazon.
B.Sc. (hons) in Biological Sciences (specialising in Ecology) from UEA, Norwich in 1982, and a M.sc. in Oceangraphy (specialising in Marine Biology) from the University of Southampton in 1983.
Chartered biologist (CBiol) & member of the Society of Biology (MSB).
Member (MCIEEM) of Chartered Institute of Ecology and Environmental Management (CIEEM).
Fellow of the Royal Geographical Society (FRGS).
Read about my experience in the following areas: Herpetology, Reptiles, Amphibians, Birds and Other Work Experience.
For my experience as a naturalist, also check out my wildlife talks and my experience as a wildlife guide.