My skills as a herpetologist, birdwatcher and naturalist: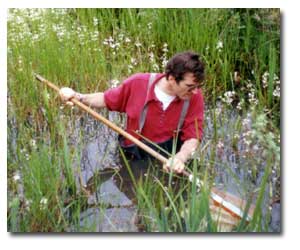 Ornithologist since childhood.
Considerable experience of bird surveys.
Herpetologist since 1989 carrying out numerous amphibian and reptile surveys.
Held a Great Crested Newt licence for all English Counties for many years, doing numerous surveys from small ponds to a broad surveys, such as key pond areas in the county of Clywd; pipeline routes and housing developments; and a surveyor in the initial surveys of Orton brick pits - a vast site that is site of the biggest colony in the UK.
Surveys for various conservation projects and for SARG.
Experience as licence holder for Great Crest Newt mitigation work.
NaturalEngland licence for Sand Lizard surveys.
Experience of habitat management/enhancement for reptiles and amphibians, including the creation of ponds and hibernacula.
Practical experience of appropriate and successful mitigation projects for reptiles and amphibians, including the introduction of Slow Worms to the London Wetland Centre, and the British Wildlife Centre. And mitigation that resulted in the creation of the Nevendon Washland Nature Reserve (that now has one of the highest Great Crested Newts counts in Essex) .
Survey of invasive 'Aliens' like the American Bullfrog.
Familiar with writing up surveys and reports.
Familiar with reptiles and amphibians in the UK, Europe and other parts of the World, including a Pool Frog survey in Europe and a general amphibian survey of the TIza river on the HUngary/Ukraine border.
Experience of Water Vole surveys.
Presence/absence surveys for bats, also assiting with many bat surveys, and with roost counts.
Experience of environmental 'watching briefs'.
Checking for Japanese Knotweed, Giant Hogweed and alien 'aquatics'.
Member (and committee member) of SARG (Surrey Amphibian & Reptile Group).
Assistance with film crews working on reptiles and amphibians including 'Wildlife SOS' on Animal Planet with Wildlife Aid.
Familiar with marine and rainforest environments, with experience as a 'ship's naturalist' and as a 'resident naturalist' in the Amazon.
B.Sc. (hons) in Biological Sciences (specialising in Ecology) from UEA, Norwich in 1982, and a M.sc. in Oceangraphy (specialising in Marine Biology) from the University of Southampton in 1983.
Chartered biologist (CBiol) & member of the Royal Society of Biology (MSB).
Member (MCIEEM) of Chartered Institute of Ecology and Environmental Management (CIEEM).
Fellow of the Royal Geographical Society (FRGS).
Feel free to contact me for my experience with specific tasks, surveys, preliminary ecological appraisals, mitigation projects relating to reptiles, amphibians, herpetofauna in general, birds, and other protected/priority species/habitats, plus advice on 'Biodiveristy Net Gain'.
For my experience as a naturalist, also check out my wildlife talks and my experience as a wildlife guide.